Hannah Kirk 'delight' at Nottingham tram work wedding day suspension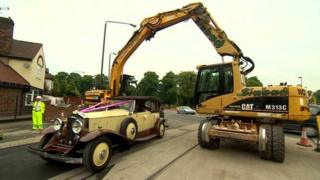 Tram works in Nottingham were suspended to allow a bride to get to her wedding.
Hannah Kirk feared her special day would be ruined by the latest phase of the extension to the tracks in Beeston.
But her parents pleaded with contractors Taylor Woodrow Alstom to suspend work so a car could reach her at home on Saturday.
Workmen went one better, providing a guard of honour with diggers, serenading her as she passed and writing a message in the tarmac.
"It meant a lot to me," the 34-year-old bride said shortly before her wedding to James Jackson at Colwick Hall.
"I've always wanted to go from my parents' house and I was worried I couldn't do.
"I'm so pleased, I'm so happy - I can't believe it."
Mark Freeman, foreman from Taylor Woodrow Alstom, said: "It was her day and we tried to alleviate any impact the work had on it.
"We did a bit of reinstatement work and put a message out there for her."