Nottinghamshire Police search for missing family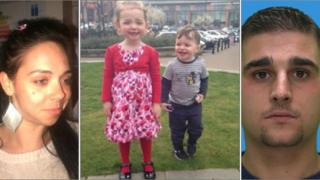 Concerns have been raised over the welfare of a Nottinghamshire family including two young children who have not been seen since Friday.
Rosemarie Senior, 24, and her three-year-old daughter Nora Lisa Ward and son James Dean Docherty, two, were last seen in Chancery Lane, Retford.
They were spotted getting into a car with Ms Senior's partner, Sidney Winson, 27, at about noon.
Detectives believe they may be in or on their way to Ireland.
A spokeswoman for Nottinghamshire Police said there was no "immediate risk of harm" to the family but they would like to speak to them.
Ms Senior is described as white with her black hair tied back. She was wearing jeans, a black T-shirt and a black cardigan.
Mr Winson is white with short dark hair.
Two-year-old James was wearing brown shoes, blue jeans, and a navy and terracotta long sleeved top.
Nora is white with light coloured hair and was wearing silver ankle trainers and blue jeans with white spots.
Her top was white with pink sleeves and features a rainbow and cloud and the word 'Cute'.