Nottingham student makes water out of air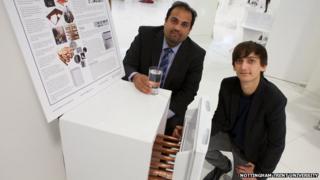 A student has designed a machine that uses unwanted fridges to make drinking water out of air.
Nottingham Trent University undergraduate Joseph Wild said his invention could save lives in countries with a water shortage.
The solar powered contraption makes clean water by condensing moisture.
It is on display at the university's degree show alongside a seatbelt specifically for arthritis sufferers designed by Christopher Fox.
The water machine is designed for use in humid areas and uses repurposed fridges otherwise destined for landfill, providing enough safe drinking water daily for a small family.
It works by drawing the moist air into the cool fridge using old computer fans and passing it through a copper pipe.
The water condenses and is collected at the bottom of the fridge. A tap means the door does not need to be opened.
Mr Wild said: "Water shortage is one of the world's greatest challenges and more than 768 million people globally lack access to a safe source of water."
He added that it reduces the risk of waterborne diseases.
His design is on display at the university's art and design degree show which runs until 7 June.
Also in the show is a seatbelt to help arthritis sufferers buckle up after Mr Fox discovered many older people struggle.
In his research he discovered people had to ask for help because the buckle was too painful to use.
His invention sees the clasp swap position with the buckle and moved on to the belt.
Other products include a flexible fabric bike lock and a version of the Little Mermaid book.
Some of the text is only visible when sprayed with water.