Tremor 'decline' in quake-hit New Ollerton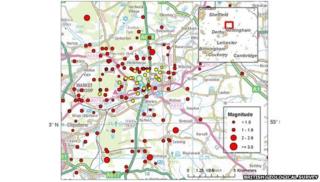 Earthquakes in the "most seismically active" area in the British Isles appear to have stopped, according to the British Geological Survey (BGS).
New Ollerton, Nottinghamshire, experienced 93 small tremors, attributed to mining, from mid-December, with the last on 17 April.
Seismologist Glenn Ford said mining operations at Thoresby Colliery could have moved, accounting for the decline.
UK Coal confirmed mining had started moving away from the impacted area.
'Direct impact'
Mr Ford said: "It is our understanding that operations at the mine are coming to an end of the current phase and may explain why the events have gone into decline."
He added that very small quakes could still have happened but were not detected by the BGS's instruments.
James Lawson, from the town, said in January that the quakes sounded like "something was trying to get through" with his son likening it to a "monster".
At the time, the area had experienced 30 quakes in 50 days. There was a total of 41 tremors in the same period across the whole country.
The BGS said many tremors were "just perceptible" and structural damage from mining-induced earthquakes were unlikely.
Gordon Grant, a spokesman for UK Coal, said coal panels measuring about 2,000 yards (1,828.8 m) in length and width, are mined at any one time over the course of a year.
He said: "We're coming to the end of mining the panel [and] moving away from the direct impact [it was having] on New Ollerton."
Mr Grant added that people who felt the tremors would have had a similar experience to a lorry driving past a house.
Thoresby Colliery is due to close in 18 months after UK Coal hit financial difficulties.