Nottinghamshire fire service consulting over cuts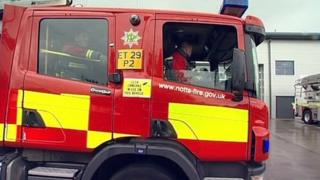 Nottinghamshire Fire and Rescue Service is consulting on plans to change frontline services at six of its 24 fire stations.
These include cutting the number of engines at Central, Mansfield, Stockhill and Highfields, from two to one.
Warsop and Collingham would also lose their retained firefighters, with cover being provided by other stations.
The service needs to find savings of £2.4m to meet a shortfall in funding.
Chair of the Fire Authority, Darrell Pulk, said: "The service has already made some significant savings in recent years, but further cuts in government funding have resulted in £2.4m of additional savings being needed.
"This leaves the service with no option but to once again review how it delivers services to the people of Nottinghamshire."
Risk warning
He added: "The Fire Authority has asked the service to carry out this consultation on its behalf so it can gauge public opinion, and so it can reassure the public that these aren't decisions that are being taken lightly."
But Phil Coates, from the Fire Brigades Union, warned the cuts were dangerous.
"You might not need that fire engine today but tomorrow you might have a house fire with people and children inside and then you do need it. It's an insurance policy.
"We don't have a house fire every day and we wouldn't want that to happen. We have done a lot of work to cut that down but a fire engine there, in that vicinity, is an insurance policy for those people."
He added: "We are stretched as it is and this is pushing us to breaking point".
The consultation launched on Monday and will run for 12 weeks.