Anger over new Beeston Sea Scouts base raid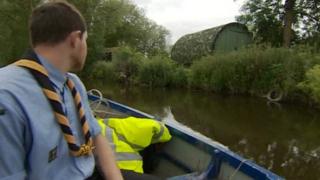 Burglars have raided a Nottinghamshire Sea Scout base, stealing "vital" equipment used by young people.
The 2nd Beeston Sea Scouts discovered locks and cables had been cut on Barton Island, on the River Trent, about a mile from Beeston Marina.
Nigel Bosworth, from the group, said they were devastated and would need to start fundraising again to replace the equipment, worth more than £1,000.
Last summer, army reservists helped to create the new, more secure base.
'Angry and upset'
About 30 young people, aged between 10 and 18, use the facility for activities including kayaking, rowing, camping and learning survival skills.
Mr Bosworth said it was their fifth break-in in three years.
"They cut the high-security lock off. We opened up and found that a lot of the equipment had been stolen; a petrol chainsaw, lawnmower, generator and even tents were damaged," he said.
"For me, it affects the work we do with the children, but it affects the children the most.
"They were upset. It's their equipment that's been stolen; it's their island.
"It makes me very angry... why would they want to do this to a group of children?"
Cub leader Dave Stafford said the thieves also broke into their new boathouse, taking a dinghy to load the equipment and dumping the boat nearby.
Nottinghamshire Police said it was investigating.