John McGrath had tried helping schizophrenic grandson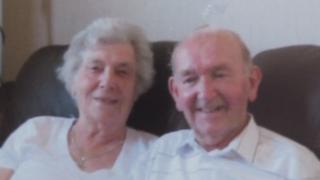 A grandfather who was killed by his schizophrenic grandson had tried hard to get him help, an inquest has heard.
John McGrath was stabbed to death at his home in Stapleford, near Nottingham in July 2009. His wife Mabel was also injured as she tried to protect him.
The inquest at Nottingham town hall heard William Barnard, now 34, had lost contact with his care team at the time.
Coroner Heidi Connor said the inquest's purpose was to determine if Barnard should have been detained earlier.
Mr McGrath, 81, suffered 56 wounds when his grandson attacked him.
Barnard admitted manslaughter on the grounds of diminished responsibility in 2010 and is now detained indefinitely in Rampton high security hospital.
'Inadequate support'
The family previously said they had not known Barnard had stopped taking his anti-psychotic medication and pushed for an inquest to expose the people they believed were at fault.
At Monday's hearing, Mr McGrath's daughter Ann Poppo, said he had always looked out for his grandson and was saddened by his illness and the "inadequate support he was receiving".
She said her father had fought tirelessly to get Barnard the help he needed but "he had to die to make this happen".
She added that her mother Mabel, now aged 88, is "tortured daily" by flashbacks of what happened and wishes she hadn't survived.
Ms Connor promised the family a "full and fearless inquest".
She said during the two week inquest she would try to determine whether Barnard should have been detained by the mental health services much sooner.
An earlier inquiry into Mr McGrath's death found vital chances were missed by the authorities.