Boy, 10, excluded from Nottingham school after knife find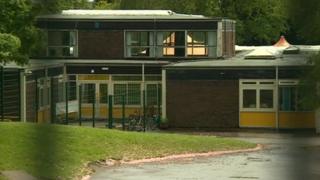 A 10-year-old boy has been excluded from a Nottingham primary school after he was found with a knife.
A spokesperson for Arnbrook Primary School, in Arnold, said it was found among the pupil's belongings on Friday.
No-one was threatened, or injured, and the matter is now being dealt with by police.
Southwark Primary Academy Trust, which runs the school, said it was ensuring the matter was investigated and that pupil and staff safety was assured.
The school, which has about 300 pupils, has recently become an academy.
In a letter being sent to parents, head teacher Caroline Ford said: "This serious incident was immediately referred to the police and is under investigation."
She added: "Support has been put in place for children and the incident has been dealt with swiftly and appropriately."