Mansfield park sex attack accuser 'wasted police time'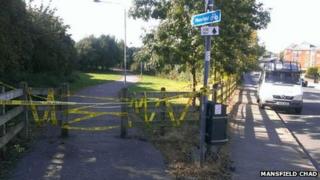 A 17-year-old girl who detectives said "had been seriously, sexually assaulted" in Mansfield has been accused of wasting police time.
The attack was alleged to have happened at Racecourse Park, near Southwell Road, at about 20:30 BST on 2 May.
A petition was launched calling for CCTV and improved lighting at the site following the girl's allegation and an attack on a dog walker in September.
The teenager was reported for summons after being interviewed on Thursday.
Nottinghamshire Police said: "There was a lot of concern from local people about this attack, and we have carried out a full investigation which led to the alleged victim being re-interviewed.
"After speaking to officers last night, she has subsequently been accused of wasting police time over the allegation."