Facebook search woman meets father after 36 years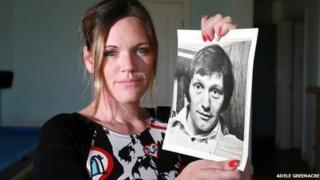 A Nottinghamshire woman and her father, who went missing almost 36 years ago, have been reunited after she searched for him on social media.
In 1978, Derek Greenacre, then 33, left his home in Sherwood, Nottingham, to go to work but never returned.
After setting up a Facebook appeal, Adele Greenacre, 36, from Radcliffe-on-Trent, was contacted by someone in Switzerland who knew her father.
Ms Greenacre said finally meeting her father was "the best day ever".
"It was like a million driving tests at once, I was so nervous," she said.
"We were both a bit shaky and stuttering to start with but that soon disappeared."
Ms Greenacre said she learned her father had experienced memory problems and had a two-year memory gap from the time he disappeared.
"I can't expect answers from somebody who can't give them," she said, talking about her father's memory loss.
She was just 11-weeks-old when her father went missing on 28 June 1978.
A police investigation was carried out and his disappearance was reported by national newspapers, but he was never found.
"I had a phone call from a man in Switzerland saying he'd known my father - he had met him in a homeless shelter.
"He then called back and gave me a phone number. I rang it and spoke to my dad.
"We've had one meeting, we're going to meet up again and I had a phone call yesterday," said Ms Greenacre.
"We have a lot of catching up to do and it's going to be slow."
The Facebook appeal page has been shared more than 20,000 times since 26 March.