'Bomb' discovered in Beeston during tram works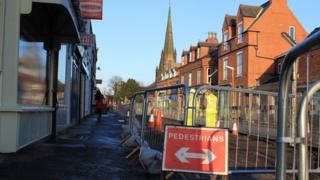 Buildings were evacuated after workers constructing a tram line unearthed an old artillery shell.
Nottinghamshire Police were called to Middle Street, Beeston, Nottingham, at about 12:45 BST after the discovery was made.
Police said the shell, which pre-dated World War 2, was not live and had been taken away by a bomb disposal team.
Once it had been removed a 400m (1,300ft) cordon was lifted and Station Street reopened.