American Herb Reagan wins deportation appeal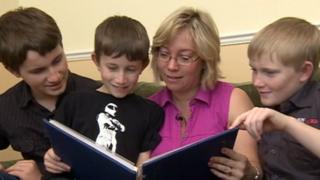 A family who were forced to live apart for 10 months because of visa problems are to be re-united.
American Herb Reagan married his wife Gill in Nottingham in 1993 and lived in the UK for 12 years before they moved to South Africa for missionary work.
But upon his return the 48-year-old was deported because his leave to remain in the UK had expired.
He can now return after an immigration tribunal ruled in Mr Reagan's favour after he appealed.
The UK Border Agency (UKBA) said it would not comment on individual cases.
'Wrong information'
Mrs Reagan said the couple had been given "the wrong information" by both the British Embassy and the border agency.
She said her husband was told he could fly back to the UK and enter on a tourist visa while he waited for an application for a full visa to be considered.
But when the couple and their three sons arrived at Heathrow Airport in August 2013, he was deported back to South Africa on the same day.
"We wouldn't have been in this situation if we had been told the right rules," she said.
Her solicitor Mark Lilley-Tams said: "It has been enormously disappointing how the Home Office has failed to exercise their discretion in Gill's case."
The border agency did send an apology to Mrs Reagan, but refused to change its decision, he added.
The tribunal judge ruled that Mr Reagan's deportation was a breach of the couple's right to respect for family life, Mr Lilley-Tams said.
Mr Reagan, 48, has not yet returned from the US as more paperwork has to be completed, his wife said.