Man charged after UKIP leader Nigel Farage hit with egg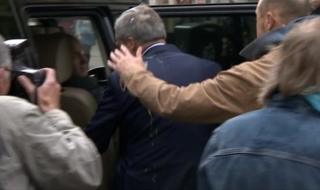 A 33-year-old man has been charged with assault after UKIP leader Nigel Farage was hit by an egg in Nottingham.
Frederick Glenister from Radford, Nottingham was bailed to appear at Nottingham Magistrates' Court on 22 May.
Mr Farage was campaigning when he was hit on the head with an egg.
The incident happened on Thursday as Mr Farage arrived at a rally for his East Midlands candidates for the European elections.
He returned to his car, which drove off leaving supporters behind.