Mass breastfeeding protest at Sports Direct in Nottingham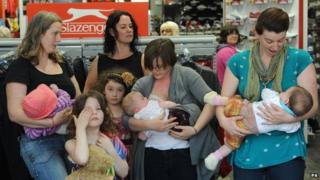 About 30 women have breastfed their children inside a Sports Direct store in support of a mother who was told she could not do so.
Wioletta Komar said she was forced to feed her baby outside in the rain after being told breastfeeding was against Sports Direct's company policy.
Nottinghamshire Breastfeeding Mums Network organised the mass "feed-in" protest at the store in Clumber Street, Nottingham.
Sports Direct declined to comment.
Leah Gibson, one of the organisers, had previously been told she could not breastfeed in a shoe shop.
'No nipple tassels'
"It was so upsetting and as a mother it's heartbreaking, when your baby is crying, not to be able to give your child what they need," said Miss Gibson, 27, from Sutton-in-Ashfield.
"It's not as if we go around with nipple tassels on shouting 'Oh, look at me!'.
"You sit on a chair and you feed your baby. You wouldn't really know that's what somebody was doing."
She said the protesters were in Sports Direct for about half an hour.
"The staff were actually really lovely," said Miss Gibson.
"They carried on about their business and left us to it, which is what the aim of the whole thing is.
"We want all shops to treat breastfeeding women in the same way."
Sports Direct did not respond to Mrs Komar's complaint for three months, then sent her flowers after a story was published in the Nottingham Post.
"It is sad that I had to go to press and media to get an answer from them," said Mrs Kumar, 25, of Boston, Lincolnshire.
"I was all covered; I didn't expose my breasts or anything."
She said the shop assistant saw her start to cry after telling her to leave.
"It was the way she spoke to me and her whole attitude - she was just so rude, and I felt so upset and embarrassed," said Mrs Komar, who has not breastfed in public since then.
"I still feel depressed about it and can't forget about that bad experience.
"I can't understand why a baby has to be punished for being hungry and why I need to feel like a criminal when I just want to feed my baby son."