Tour de France test for Nottinghamshire teachers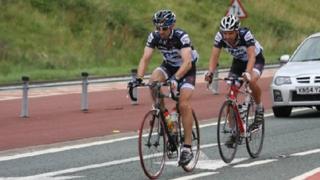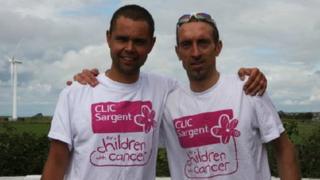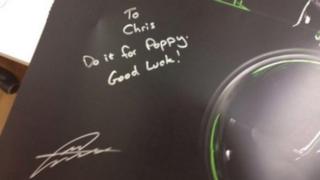 Two teachers have been preparing to cycle more than 2,000 miles in 20 days along the Tour de France route.
Nottinghamshire teacher Chris Ridley's daughter has epilepsy so he decided to raise £25,000 to buy equipment for families like his through his "ridiculous challenge".
Colleague Steve Taylor wants to raise the same amount for Mind because his grandmother suffers dementia.
They will start in Leeds shortly after the professionals who begin on 5 July.
The pair, who have been given encouragement from Tour de France regular Mark Cavendish, will face a total of 2,278 miles (3,656km) and climb mountains in the Vosges, the Alps and the Pyrenees in temperatures above 30C (86F).
Mr Ridley, who is an assistant head at Selston High School, said: "Nothing can prepare us for those alpine climbs.
"But it has to be this big to raise the money."
Mr Ridley's five-year-old daughter Poppy has had uncontrolled epilepsy since she was a baby.
Despite medication her seizures got worse until a dietician, funded by the Daisy Garland charity, helped improve her condition.
But there are still many difficulties facing Mr Ridley and his wife Karen, and days without a seizure are considered "pretty good".
Mr Ridley decided to take on the Tour De France route, which he said had "been a dream for a while", after Poppy's condition worsened last year.
He said: "Poppy doesn't know any different in her life... but the challenge has been focussing my mind and I desperately want to do it."
The money raised would pay for special monitors that alert parents to seizures during night-time.
There are currently 22 families in Nottinghamshire on the waiting list for the equipment.
Friend and colleague Mr Taylor has picked mental health charity Mind because his grandmother suffers dementia.
She no longer recognises anyone in the family and has to live in a care home.
The challenge titled The Big Job 2014, and starting on 23 July, aims to raise £50,000 in total.