Woman arrested over Daneshill Road drilling site assault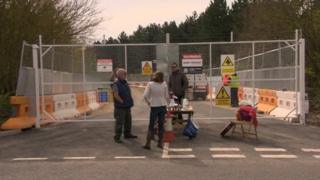 A 58-year-old Derbyshire woman has been arrested over an assault on a man at a drilling site in Nottinghamshire.
Police said they had received a number of reports about criminal damage and threatening behaviour overnight at the Daneshill Road site, near Lound.
Dart Energy, the owners of the site, said its site manager had been assaulted on Saturday morning.
The woman, from Buxton, remains in custody. On Tuesday, an anti-fracking protester chained himself to a drill.
Supt Mark Pollock from Nottinghamshire Police said: "We recognise environmental issues are emotive but our role as police is clear - we are here to protect life, prevent crime and maintain peace.
"Where there are any assaults, threatening or abusive behaviour or criminal damage, we will take action against the offenders."
'Cowardly abuse'
John McGoldrick, Dart Energy's CEO said: "Site personnel have been threatened with violence, verbal abuse and now physical abuse.
"These abuses are despicable and cowardly."
About 15 people from the group Frack Free began camping out at the site on 15 April.
It is not known whether the woman arrested is part of the campaign group.
Dart Energy said it had been exploring the site for coal-bed methane and was not "hydraulically fracking, nor removing water".
The work is expected to take between eight and 12 weeks.