Duke and Duchess of Cambridge's wedding cake slice auctioned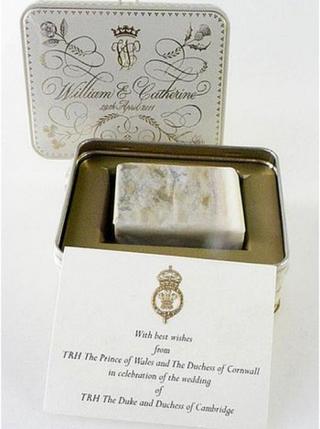 A slice of fruit cake from the Duke and Duchess of Cambridge's wedding - in its presentation tin - has been sold for £420 at auction.
Crown Speciality Packaging in Mansfield, Nottinghamshire, made the tins for the royal wedding in 2011 so guests could take a piece home.
The slice was sold on behalf of a former employee, who was sent a piece as a thank you gesture for his work.
Fiona Cairns, from Leicestershire, created the royal eight-tier cake.
Adrian Richardson, 59, said he was one of a small number of employees of the firm to be given a slice in the commemorative tin he helped design, along with a note from Prince Charles and the Duchess of Cornwall.
Nottingham-based auctioneer Mellors and Kirk, which had estimated the slice of cake would fetch between £50 and £150, said it was sold to an Italian buyer.
A slice from the same cake sold for more than £2,000 in America in November.
The cake designer, who was commissioned by Prince William and Catherine to create the multi-tiered traditional wedding cake, decorated with sugar flowers, had said it was built inside Buckingham Palace.