Man's 'horrific' attack injuries 'too graphic' for colour pictures say police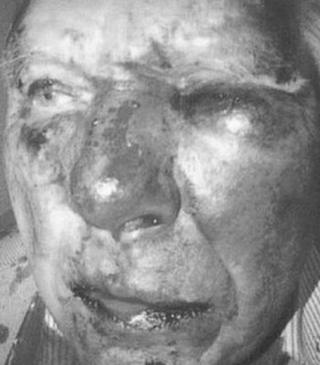 Police hunting the attackers of a Nottinghamshire couple have taken the decision to release black and white images of the man's "horrific" injuries.
Det Insp Rich Monk said they were "just too graphic" for colour.
The 64-year-old man and his wife were beaten in their Hucknall home by three masked men who then left empty-handed.
His injuries include a broken nose and cheekbone, a fractured eye socket and fractured hand.
His 63-year-old wife was also hit and pushed against an oven with such force it smashed the door.
Police said the attack took place at about 20:30 GMT on 1 April.
'Psychological harm'
Mr Monk said: "This man did what he could to protect his home and family, managing to throw a few punches himself.
"But one against three is no contest and he came off the worse for wear.
"The psychological harm caused by such an intrusion may never go away."
He said the couple's injuries would take some months to fully heal and the couple were now receiving counselling.
The husband, whose name is not being released, said they would be installing CCTV at their home.
"People like this go for those who they see as vulnerable," he said.
"What concerns me most is that if they hit someone in their 80s like they hit me they could quite easily kill them.
"If you know who did this then please call police, so that it doesn't happen to anyone else."
Mr Monk appealed for anyone with information about who carried out the attack to come forward especially if they arrived home with bloodied clothing or cuts and bruises to their face.