Alan Easton murder: Defendants had 'no motive' for killing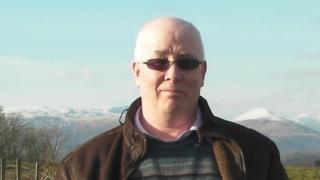 A widow and her two alleged accomplices had no motive for killing her new fiancé, a court has heard.
Angela Dowling, Matthew Duffy and Mark Bingham, all from Yorkshire, are accused of murdering Alan Easton less than two months after Mrs Dowling's husband died from cancer.
Mr Easton was stabbed and beaten and found buried on farmland in Everton, Nottinghamshire on 2 February 2013.
Mrs Dowling, 48, Mr Duffy, 23, and Mr Bingham, 50, all deny murder.
Nottingham Crown Court heard Mrs Dowling had been sexually involved with her lodger Stephen Schofield, 33, who has admitted murdering Mr Easton.
Mrs Dowling, of Windmill Avenue, Conisborough, South Yorkshire, had attended her husband's funeral on 15 January.
Days later she visited family friend Mr Easton, in Dunbartonshire, Scotland, and became engaged to him. He then decided to move in with her.
'Lost their temper'
Ian Unsworth, prosecuting, said the group had held a "planning meeting" to discuss murdering him.
He said Mrs Dowling, Mr Duffy and Schofield claimed they were taking Mr Easton out for a celebration meal on 1 February when she drove them to a Nottinghamshire country lane.
The jury heard Mr Duffy and Schofield had spoken of wanting to "scare" Mr Easton and instead "lost their temper".
Defending Mrs Dowling, Simon Csoka said she had thought the two men were only going to give Mr Easton a "duffing-up".
She said it came after they heard rumours that he had inappropriately touched a teenage girl, but denied knowing they had knives.
Mr Duffy, of Sussex Street, Doncaster, was friends with Mrs Dowling's son.
Maura McGowan, defending Mr Duffy, said a series of lies had been told throughout the trial by Mrs Dowling, her son Andrew and also her client, who had panicked.
She said Mr Duffy had merely been present at the murder and that Schofield had stabbed and buried Mr Easton's body.
'Horrific attack'
Lawyers said Mrs Dowling had appeared "happy" about her new engagement and that her two co-defendants had met Mr Easton only days before his death, and could have no motive to kill him.
Shaun Smith, defending Mr Bingham, played down claims that his client had "wanted to run off" with Mrs Dowling.
He said Mr Bingham, of Fishponds Road West, Sheffield, had been at the Dowling family home on the night of the attack, drinking with Mrs Dowling's son.
Judge Greg Dickinson said: "This was a horrific attack. Mr Easton was beaten around the head, had several cuts to the neck and was dumped in a trench, covered in soil while still alive."
He said the jury must decide whether the defendants had planned the murder and acted together in "joint enterprise", or whether their intentions had not been to kill or cause serious injury and that Schofield had acted alone.
The jury has now retired to consider its verdict.