Riley Hartin inquest: 'Sub-optimal care' at King's Mill Hospital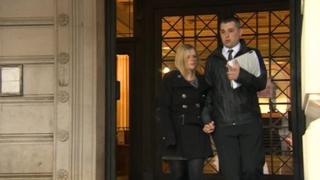 Two parents said they went "through hell" because a hospital wrongly told them their newborn baby was dead.
Daniel Hartin and Jodie Hemmings realised their son, Riley, was still alive when he was handed to them at King's Mill Hospital in Nottinghamshire last February.
He was transferred to another hospital, where he died two days later.
A coroner said it was not possible to determine if the care provided led to his death.
But she said there was "evidence of sub-optimal care during labour and after birth".
Labour complication
In a statement given after the inquest, Riley's parents said: "Our hopes were raised again that Riley would live, but by this time he had been starved of oxygen."
Riley was deprived of oxygen during labour because of a complication called vasa praevia.
When he was born he showed no signs of life, and midwives tried for 30 minutes to resuscitate him, the inquest heard.
They handed him to his parents, who subsequently heard him breathing and making noises.
The statement from his parents added: "Riley then died two days later. We went through hell, being told not once, but twice, that our baby had died."
The charity Vasa Praevia Raising Awareness says babies can be delivered safely by Caesarean section, and therefore survive, if vasa praevia is diagnosed.
But Consultant obstetrician Srini Vindla, of Sherwood Forest Hospitals, told the hearing that vasa praevia was a very difficult condition to diagnose, and a Caesarean section at that stage of labour would not have saved Riley's life.