Baby given morphine overdose at King's Mill Hospital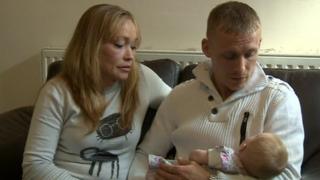 The parents of a baby who was given an overdose of morphine by hospital staff say it is a "miracle" she is alive.
Carl and Michelle Prudence from Newark, Nottinghamshire, say their daughter Ellie was mistakenly given 100 times more than the recommended dose.
Ellie, three weeks old at the time, had been admitted to King's Mill Hospital in December with irregular breathing and given the morphine to sedate her.
The hospital's trust apologised for the error and said changes had been made.
Mrs Prudence said Ellie, now three months old, should have been given 0.27mg but was instead given 27mg.
She said the amount had not been checked properly by two nurses and two doctors caring for Ellie.
'Thought I would lose her'
"I knew it was too much and I challenged the doctor but I'm not a doctor, I really trusted them," Mrs Prudence added.
"As she had the morphine she stopped breathing. Nobody expected her to survive. I thought I was going to lose her.
"These procedures are there to be followed. If they had been followed my daughter would not have been overdosed."
Ellie spent several days recovering in intensive care at Sheffield Children's Hospital.
Her parents said the long-term implications to her health because of this mistake were still unknown.
"I couldn't understand how anything like this could happen," said Mr Prudence.
"We nearly lost her. It's an absolute miracle she's still here."
King's Mill Hospital said since the error it had changed procedures and drug labelling. The pharmacy has also reduced the range of strengths available.
Dr Andy Haynes, from the Sherwood Forest Hospitals Trust, said: "The incident was notified to the family and external agencies immediately and we initiated an internal investigation in line with trust policies. Immediate steps were taken to ensure patients were safe."
He said there had been a full investigation with recommendations for the hospital which would be released next week.