Clipstone abuse: Children 'failed' by Nottinghamshire services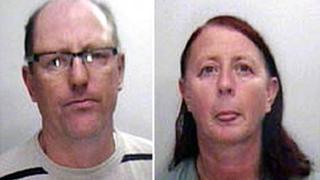 A serious case review has found three children who were sexually abused by a couple for 15 years were "failed" by services in Nottinghamshire.
Robert and Rita Oldham, from Clipstone, Mansfield, were jailed in January 2013 for offences that included rape.
A Nottinghamshire Safeguarding Children Board (NSCB) report found professionals "did not hear or understand complaints made by the children".
There was also often "a willingness to disbelieve allegations".
'Allowed abuse'
Robert Oldham was sentenced to 20 years after pleading guilty to 16 offences, including rape and indecent assault.
His wife was sentenced to six years for rape and indecent assault.
However, it was not until 2013 that their convictions were secured - 16 years after Nottinghamshire Police first investigated the allegations.
Supt Helen Chamberlain, from Nottinghamshire Police, said there were a variety of reasons why a prosecution had not happened earlier.
However, she said: "The victims in this case were let down by a system which allowed the abuse to continue, and for that we offer our sincere apologies."
The review by the NSCB said that in the nine-year period covered by the review there was an overall failure to protect the children by agencies that included the city and county council.
"There was a lack of professional curiosity and willingness to intervene and take decisive action," said the statement.
Following the convictions of the Oldhams in January 2014, one of the victims told the BBC the abuse had affected most of her life.
"I had a mental breakdown and tried to commit suicide. I tried to take an overdose when I was 12 years old, I think", she said.
"The school just put it down to bullying - nobody listened to what I had to say."