Nottingham tram site human skulls 'archaeological'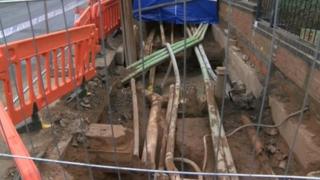 Two human skulls, found with other bones by workers constructing a tram line in Nottingham, are over 70 years old, police have said.
The discovery was made in Poplars Court, Lenton Lane, Dunkirk, on Tuesday evening.
A forensic anthropologist concluded the remains were archaeological and not recent.
Police have said they are not treating it as suspicious and believe the bones could be from a church burial ground.
A cordon that was put in place while further excavations were carried out has now been removed.