End Hunger Fast priest begins 40-day protest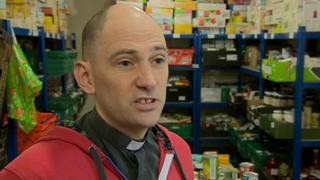 A priest has begun a 40-day fast as part of a campaign against hunger in Britain.
The Reverend Keith Hebden, from St Mark's in Mansfield, will take only water and fruit juice until Easter.
Dr Hebden, who is part of the End Hunger Fast initiative, said increased use of food banks in an affluent country amounted to a "moral crisis".
The government has rejected criticism of benefit reform, saying it aims to cut dependency on welfare.
As part of the End Hunger Fast campaign, 43 Christian leaders, including 27 Anglican bishops, signed a letter urging David Cameron to ensure people get enough to eat.
Protest conviction
The campaign is also calling for a national day of fasting on 4 April.
Dr Hebden said: "Today is an exciting day, with so many different faith communities and sections of wider society uniting in the call to end UK hunger.
"We must stop and recognise the growing hunger in our midst.
"I hope others will join and fast for a day a week, or as long as they feel able, in solidarity with the half a million hungry Britons.
"This is a moral crisis, one we should lament as it calls us to act."
The government says its welfare reforms are designed to help people "trapped in a cycle of dependency".
In October Dr Hebden was among six people fined £100 for damaging a fence during an anti-drone protest at RAF Waddington, in Lincolnshire.