Pedestrian killed on Mansfield Road in Nottingham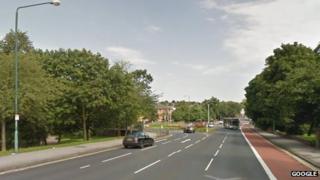 A man was killed when he was hit by a car as he walked along Mansfield Road in Nottingham.
John Slater, 38, from Arnold, was struck by the dark-coloured car about 50m from Goose Fair Island at about 02:20 GMT on Sunday.
It is thought he was walking away from the city centre and the driver was coming from either Sherwood or Gregory Boulevard.
The driver stopped after the crash and nobody was arrested, police said.