Nottingham tram: Final stretch of Clifton extension work starts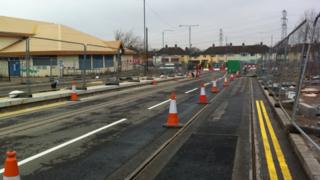 The latest phase of work to extend the Nottingham tram system is expected to start later.
Laying of track in the centre of Clifton has now finished meaning a stretch of Southchurch Drive reopened to traffic on Sunday.
Pet store owner John Barlow said he was delighted the road had reopened meaning customers could reach his shop again.
But further restrictions will be imposed on a different stretch of the road for the next six months.
Mr Barlow said: "At last, brilliant. We can start doing the things we love which is selling and getting the customers back.
"Last year, after compensation, we were down £8,000... It's horrible having to ask for compensation which we don't get all of, we never wanted that in the first place. We just wanted our customers."
The final sections of work on Southchurch Drive and Farnborough Road follow the completion of track laying in the centre of Clifton, Nottingham Express Transit said.
Bus services will return to Southchurch Drive, including the shopping areas at Varney Road and in Clifton centre, following diversions.
But other parts of Southchurch Drive and Farnborough Road will be closed or have temporary traffic lights during the work.
Michael Anderson, project director for Taylor Woodrow Alstom, said: "The final sections of tram work on Southchurch Drive and Farnborough Road will involve moving and replacing utility services, installing the tram tracks and building tram stops.
"With most of the utility moving and replacement work already under way, we expect to make good progress on the final section," he said.