Detective Trevor Gray rape inquiry 'beggars belief'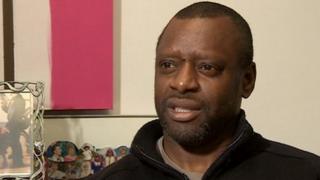 An investigation into a Nottinghamshire police detective who was wrongly convicted of rape has been criticised.
Trevor Gray was jailed in May 2012 for attacking a woman in her home but then cleared just over a year later.
The Police Federation said it "beggars belief" that a vital witness, who was not traced by police, was found by Mr Gray's wife, Alison, in four days.
The force said it could not comment as an appeal against Mr Gray's dismissal was under way.
Mr Gray, from Watnall, admitted having sex with a 43-year-old woman at her home on 24 July 2011 while he was separated from his wife, but insisted it was consensual.
After the trial, Mrs Gray examined case files and found mention of a taxi driver who had not been questioned by police.
He was tracked down and gave evidence at the second trial, telling jurors he saw the woman and Mr Gray kiss and embrace.
Phil Matthews, from the Police Federation, which represents rank and file officers, condemned the original investigation.
"I'm dumbfounded," he said. "It beggars belief that such a key witness could not be located by professional investigators when someone with no investigative background manages to find them within four days.
"That evidence was crucial to the entire investigation and has resulted in Trevor being acquitted.
"It was a crucial flaw. It raised some serious questions about the integrity of the investigation."
Apology demand
Mr Matthews also said he was disappointed Nottinghamshire Police had refused to reinstate Mr Gray while his appeal against dismissal was made.
Mr Gray said he found it difficult to understand why the witness had been overlooked by police.
"Ability? Or lack of ability? I don't know if it was malicious or a combination of the two - I just don't know."
He added : "It is ridiculous [that he has not been reinstated]. At the very least they should acknowledge their failings, apologise for those failings and reinstate me immediately.
"I am an innocent man, I have done nothing wrong. I have been to court to prove my innocence.
"Why are they behaving like this? I don't know."
The Independent Police Complaints Commission has confirmed it is also conducting an investigation.
A police spokesperson reiterated an earlier statement, saying: "Following a public complaint, Trevor Gray was dismissed from the force under police discipline legislation.
"Mr Gray is appealing his dismissal and, as a matter of course, the force will follow the legal process. As such, it would not be appropriate to comment further at this time."