Nottinghamshire County Council to raise tax and cut services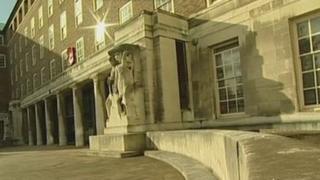 Nottinghamshire County Council has voted to cut services and increase council tax as it aims to plug a £154m budget deficit over three years.
The Labour-led authority described the cuts as "painful and sickening" but said it was doing what it could to "deliver fairness in difficult times".
The authority said about 750 jobs were at risk as a result of the budget.
The Conservative opposition said increasing council tax by 1.99% would hit the poorest the hardest.
More than 120 different cuts have been backed, including the closure of some day and youth centres.
Funding for the Nottingham Playhouse will also be withdrawn.
The final budget was approved at a meeting earlier.
'Across the board'
Help for homeless people and some transport provision for disabled children will now also face cuts.
The authority said job losses would be made through removing vacant posts, redeployment and voluntary redundancies.
Leader Alan Rhodes said: "I'm deeply saddened that we're having to make reductions that are clearly impacting in a negative way.
"It breaks my heart as leader of a Labour council to have to make decisions like this but they are decisions not of our making."
He added: "We've looked at cuts right across the board but tried to minimise the impact on the most vulnerable."
However, Conservative councillor Kay Cutts said the Labour group had known it would have to find savings if won control of the council.
She said: "They had made extravagant spending plans they could not afford and it was now the public who would pay the price."