'Duty' to warn patients of fatal bug surgeon John Lu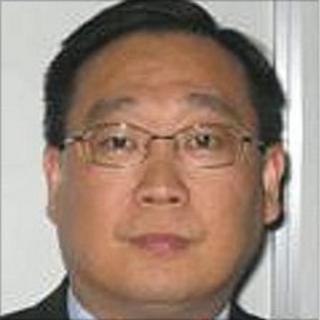 A hospital trust has a duty to warn patients about a surgeon who infected 11 patients with deadly bacteria, its chief executive told the High Court.
Five of the patients died after being infected by heart surgeon John Lu.
Nottingham University Hospitals NHS Trust wants him to tell his future patients what happened.
But Mr Lu is seeking an injunction preventing this, arguing it would destroy his career as patients would be reluctant to accept treatment from him.
Peter Homa, chief executive of the NHS trust, told the High Court he viewed Mr Lu as a "valued colleague" and is eager for him to return to surgery.
'No greater risk'
But Mr Homa said the "exceptional circumstances" of the "world's worst outbreak" of this type of infection required the trust to take steps to rebuild patient trust.
"In these circumstances, where we had this terrible outbreak, we felt we had a duty to patients to explain the context - including that Mr Lu presents no greater risk than any other surgeon," he said.
Mr Homa said he and colleagues approached the issue on the basis of "what level of consent would I want my family to have?" and failing to spell out Mr Lu's involvement would be failing to "discharge our moral responsibility to patients and their families".
Mr Lu stopped operating once he found out he was the source of the prosthetic valve endocarditis infections in 2008 and 2009.
He has told the court that he is happy to give patients a full history of his involvement in the outbreak, if asked, but he would not "volunteer" the information.
The High Court hearing continues.