Minaret added to new £1.2m Sneinton mosque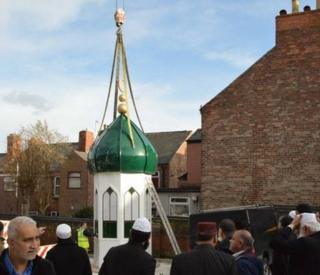 A minaret has been erected on a new £1.2m mosque and education centre in Nottingham.
The 47ft high (14 metre) glass fibre structure is one of the final pieces to be added to the Jamia Masjid Sultania mosque, in Sneinton.
The mosque, which has been built by extending a former Jester pub, is expected to open later this year.
Mosque leaders will now apply for planning permission to make the call to prayer three times a day.
'Symbol of worship'
Mosque chairman Aurangzeb Khan said he was "proud" the spiritual tower, the first in the city, was finally in place as it has tremendous significance to the Muslim community.
Former Nottinghamshire cricketer Bilal Shafayat, who was born in Sneinton and whose grandfather was involved in the mosque's creation, said: "It is amazing and a very special and proud moment to see it go up.
"The minaret is symbol of our worship place, the place where the call to pray is made.
"You can see it from a long way, making it easier for people to see it and come to worship or get advice."
The new mosque has a prayer hall and six classrooms, which are intended to be used primarily by the local community for functions and courses.
The new designs for the mosque were approved by Nottingham City Council in 2011.