Missing Staffordshire Bull Terrier found after four years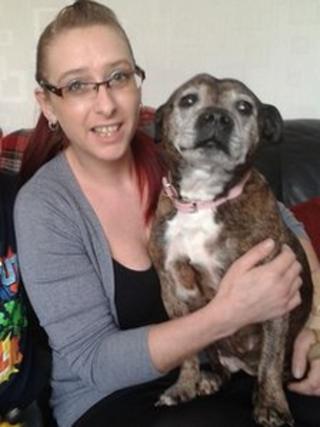 A dog which had been missing from its Nottingham home for more than four years has finally been reunited with its owner.
Staffordshire Bull Terrier Bella disappeared from the back garden of her family's home in Aspley in August 2009.
Owner Olanda Barclay said she carried out an extensive search and poster campaign to find her pet to no avail.
But Bella was finally found in New Basford by a dog warden and returned using information on her chip.
'Emotional wreck'
Ms Barclay said she still does not know whether Bella, a rescue dog, escaped out of the garden or if the animal was taken.
"We looked out on the back garden and couldn't see the dog.
"The first thing I did was jump in the car, ride around the estate and started ringing around but I didn't hear anything. It was heartbreaking," she said.
She was finally reunited with her pet a week ago after a call from a dog warden who had found the animal.
"It was a tearful moment. I was an emotional wreck because it's not a call you expect to get.
"I think she [Bella] knew who I was. She gave me lots of kisses," she said.
Alex Cox, a Nottingham community protection officer, who runs a web page to reunite lost dogs with their owners in the city, said: "This is a prime example of why people should get their dogs chipped.
"If a dog turns up anywhere in the country, it's going to be scanned by a dog warden and it will get relayed back to the owner."