Snow flea found for the first time in Sherwood Forest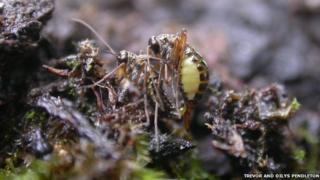 A type of insect has been discovered living in Sherwood Forest for the first time since records began.
The snow flea, named because it is usually found laying on snow, was found by invertebrate specialists Trevor and Dilys Pendleton.
Mr Pendleton said the find was "exciting" and "significant" as there were few published or known records from much of England and the Midlands.
The pair made the discovery in a mossy area of the Nottinghamshire woodland.
The Pendletons said they had cross referenced their finds with a 1914 book by JW Carr, titled The Invertebrate Fauna of Nottinghamshire, which lists insect finds dating back to Victorian times.
The snow flea was not listed in the publication, and had also checked with more recent books.
'Nestled in moss'
Mr Pendleton said: "It is always exciting when we are able to discover a new species within Sherwood Forest.
"It is the first time that it has been recorded within the natural habitats at Sherwood Forest so we are very pleased to have made this significant find."
He added that the creature bears no relation to the common flea and is more related to a species of scorpion fly.
The snow flea is active throughout the winter months and makes short jumps at 5cm or 6cm (1.9in to 2.3in) to escape predators.
The insects love cold weather and are at home nestled in moss where the larvae tunnel through, according to Mr Pendleton.
The couple have been working with Nottinghamshire County Council at Sherwood Forest.
Councillor John Knight said: "Trevor and Dilys Pendleton have a proven track record of making discoveries within our great forest and we are delighted at their latest find."
The Pendletons discovered the rare hazel pot beetle for the first time in the forest in 2010.