Notts County criticised over racism claims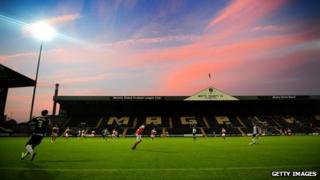 Notts County FC has been criticised by Nottingham City Council for the way it handled allegations of racism and bullying in the club's youth team.
Police investigated complaints in May about comments allegedly made by two coaches who have since left the club.
The council said it was "totally inappropriate" that the youths were in the same room as the coaches during one club disciplinary hearing.
Notts County said they followed the correct procedures.
The club's investigation into the allegations proved "inconclusive" while the Crown Prosecution Service decided not to bring charges.
'Correct procedures'
However, Alison Michalska, director for children and families at Nottingham City Council, said mistakes were made during the club's disciplinary hearing.
She said: "For the boys to be put in any formal or informal environment where they're facing the alleged perpetrators, that is totally inappropriate.
"If we'd been involved as a local authority sooner there would have been social workers and well trained police officers to make sure that that evidence was put to the alleged perpetrators.
"The club have improved their procedures and we have the confidence, should this be happening now, they would know what to do."
Notts County said in a statement: "We are happy that the correct procedures were followed throughout the investigation into the alleged actions of two former employees last year.
"We feel that the fact that these issues were able to come to light in the first place highlights the strength of the complaints procedure in place within the club at the time.
"The club have taken steps to reaffirm our complaints procedure and to brief staff at every level as to the actions that should be followed should they encounter any behaviour that breaches our strict policies on this matter."
The club added that The FA and the Professional Footballers' Association (PFA) said Notts County had acted appropriately and had been praised it for its handling of the issue.
Watch more on this story on Inside Out East Midlands at 19:30 GMT on Monday on BBC One, and for seven days thereafter on the iPlayer.