Nottingham Playhouse funding to be cut by council despite opposition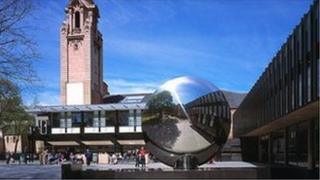 Nottinghamshire County Council is set to cut its funding to a city centre theatre despite opposition to the idea.
The authority currently provides the Nottingham Playhouse with an annual grant of about £94,000.
A Playhouse spokesman claimed objections to the cut had been "ignored" during public consultations.
The council said it needed to plug a £154m budget deficit over the next three years and it was not "legitimate" to continue funding any longer.
'Robust campaign'
Simon Seligman, spokesman for the Playhouse, said the funding cut was unpopular with residents during the council's budget consultation.
He said: "The third most opposed cut in all their proposals has just been ignored.
"It's obviously a real disappointment because while we absolutely accept the need for belt tightening, it feels like a very sad moment for the county council to end decades of support for the major supporting theatre of the region."
About 7,600 people have also signed a petition opposing the funding cut.
However, council leader Alan Rhodes said it was "not legitimate to keep giving to a city centre theatre".
He added: "Nottingham Playhouse ran a very robust campaign [but] a lot of people who signed [the petition] were not Nottinghamshire council tax payers or in some case residents."
In November, when the idea was first mooted, the theatre's chief executive Stephanie Sirr said the cuts were "the equivalent of around five jobs".
The proposal, along with plans to increase council tax by 1.99% and closures to day and youth centres, is set to go to a full council meeting on 27 February.