Bakewell museum offers 'free body parts to good homes'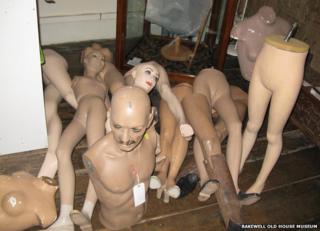 It need not cost you an arm and a leg if you are looking for new body parts as a Derbyshire museum has been offering them for free.
Bakewell Old House Museum's mannequins, which were used to display period costumes, are now missing limbs and faced being thrown away.
But after the local tip refused to take them, manager Anita Spencer advertised them for nothing on Twitter.
Some have been picked up to be used for art projects, she said.
"It's obviously caused quite a stir," she said. "We're delighted they are going because in a way they are being recycled, which is great. Better than being in a landfill."
She said that among the new owners was a local milliner, and students who wanted them for art projects.
A nearby refuse dump could not take the mannequins because of the materials they are made from, Ms Spencer said.