Nottingham council rent rise options 'divisive'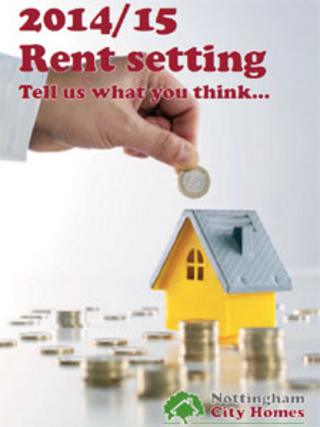 Nottingham City Council has admitted it could have been clearer about plans for rent increases for "responsible" and "irresponsible" tenants.
The authority is currently asking its tenants to choose between two rent increases - 4.68% for responsible tenants and 7.5% for the irresponsible.
The bands will reward responsible behaviour and help change the behaviour of others, the council said.
Nottingham and Nottinghamshire Scrap the Bedroom Tax said it was "divisive".
The first option also includes a £100 rent account credit for responsible tenants.
A second option for all council tenants would be an increase of 5.48% across the board.
'No option'
Cathy Meadows from the campaign group said: "We think that offering an option that divides tenants into responsible and not responsible is divisive.
"The information doesn't give a full description of who is and who isn't responsible.
"We're worried that it could include people who are in arrears or can't keep up with payments."
Councillor Graham Chapman, the city council's deputy leader, said the authority had no option but to raise rents.
"We're expected, by the government, to go for what's called rent convergence and that means increasing the rents higher than inflation.
"We may have needed to make it more clear - irresponsible tenants are for very specific things such as if you have been given an antisocial behaviour order or have deliberately not paid your rent."
Tenants have until 21 February to vote on the two options and the city council's executive board will meet on 25 February to decide.