New £13m Balderton leisure centre plans revealed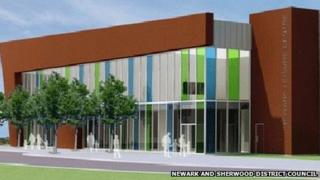 Plans have been unveiled for a new £13m leisure centre which would replace an "outdated" facility in Newark.
The proposed centre in Balderton, near Newark, would replace Grove Leisure Centre, which was built in 1968.
Newark and Sherwood District Council said the Balderton facility would have larger swimming pools, sports hall and gym than Grove Leisure Centre.
The new sports centre on Bowbridge Road could open in 2016, if plans are approved later this year.
'Thrilling developments'
Roger Blaney, leader for the district council, said the scheme would help provide jobs for the community.
"At a time when resources and capital are scarce, we firmly believe we have a solid plan for a centre which serves the public," he said.
"Residents can really look forward to two new thrilling developments in our district - the National Civil War Centre in Newark, which will open early next year, and a fantastic new leisure centre."
Mr Blaney added that the centre would "create a lasting legacy" and help meet the growing demand for sports facilities in the area.
The authority has estimated more than 5,000 people using the facility in the first year.
Grove Leisure Centre currently has more than 4,000 members.