Mansfield firm fined over man's falling fridge injury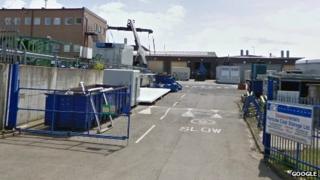 A cold storage firm has been fined after a man was seriously injured when a fridge fell on top of him.
Kevin Rodgers, 37, had an epileptic seizure and broke bones in the accident at Dawson Rental Portable Cold Storage in Huthwaite, Nottinghamshire.
At Nottingham Crown Court, the firm admitted breaches of health and safety legislation. It was fined £40,000 and ordered to pay £20,000 costs.
The Health and Safety Executive (HSE) investigated the company.
'Out of work'
In a separate investigation, the HSE found staff were using power tools for long periods of time, leaving some with Hand-arm Vibration Syndrome (HAVS) - a condition which can cause pain and numbness.
The risk of HAVS was raised and an assessment was carried out, but no further action was taken by the company, allowing the problem to continue for several years, the court heard.
Paul Straw, 47, from Mansfield Woodhouse, suffered so badly from HAVS, he can no longer work.
"Being out of work and having to claim benefits has been very difficult," he said.
"I used to play snooker and go fishing with my sons but I can no longer do that as I have lost confidence because of my condition."
After the hearing, HSE inspector Stuart Pilkington, said that "proper risk assessment was seriously lacking".
"Dawson Rental failed to protect its workers and several suffered long-term damage as a result," he said.
Dawson Rental declined to comment.