Teenage pianist Isata Kanneh-Mason hailed by Elton John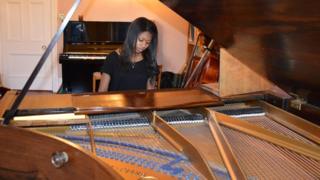 Seventeen-year-old Isata Kanneh-Mason spends about four hours a day playing the piano at her home in Nottingham.
But she does have a choice of instruments as there are four different pianos in the house that she shares with her six music-loving brothers and sisters.
The teenager, who has qualified for the piano finals of the BBC Musician of the Year competition, takes the long hours of practice in her stride.
"I do about three hours in a block and then have a break, but mostly I enjoy it - it's what I want to do," she said.
'Take a bow'
The young pianist has already won a handful of musical honours, including the highest marks in the UK for her piano exams, and has performed in Los Angeles with pop star Sir Elton John.
Sir Elton has praised her dedication and is now paying her £9,000-a-year tuition at the Royal Academy of Music in London as part of his support for talented young musicians.
A student at Trinity School in Aspley, she said playing with the pop superstar was nerve-wracking but exciting at the same time.
"He heard me play (at the Royal Academy) and he said he would like to sponsor me.
"He was real friendly and funny - he enjoyed my piano playing."
In a letter to her, Sir Elton wrote: "I am so proud you are going to be an Elton John Scholar at the academy. You have worked so very hard to achieve your goals.
"Take a bow and give yourself a big round of applause."
Isata started playing the piano at age six and now her music practice and school work dominate her life.
She even spends her Saturdays travelling to London on the train with four of her brothers and sisters to study at the Royal Academy and get lessons from her Chinese-born tutor Patsy Toh.
"I also played the violin but I switched to the viola and now I only play that as part of the string quartet with my siblings, but not as a soloist."
Her focus is clearly on classical music - Chopin, Scarlatti and Rachmaninoff are among her favourites - and even though she likes to listen to pop singers like Beyonce, she doesn't really take time to play any pop songs.
"I enjoy listening to pop music but I don't play it. I am not thinking of being a pop musician but it was an amazing experience being on stage with Elton."
The BBC Young Musician is one competition she would love to win.
"I'm really excited. I have always wanted to get to this stage because I have watched the programme since I was about nine or 10, but I never imagined myself actually being on it."
Shoulder massage
Her mother Kadie offers her daughter moral support but also helps in other ways.
"After playing for hours, sometimes I have to give her a massage - it can really cause problems with her shoulders. It really puts a strain on them.
"Her music means making a lot of sacrifices in her social life - a lot of travel and concerts. There have been lots of successes and ups and downs."
Isata's aunt was a pianist but had to stop playing after an injury.
"There are musicians on both sides of the family - my husband has musicians in his family - reggae, jazz and pop musicians," Mrs Kaddeh-Mason said.
She thinks the four pianos and six siblings probably are more of a help than a hindrance to Isata's musical progress.
"She doesn't seem to mind the pressure [of performing].
"She is surrounded by brothers and sisters who all play music so it makes it a bit easier for her - less stressful."
The BBC Young Musician of the Year category finals take place from 3-7 March in Cardiff. The finals take place on Sunday 18 May and will be broadcast live on BBC Four and BBC Radio 3.