Nottingham to expand electric bus fleet after more funding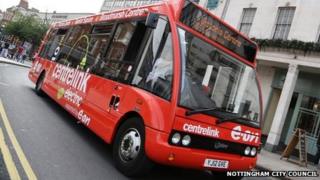 More electric buses are to be brought in Nottingham after the city council received extra cash from the government's Green Bus Fund.
Nottingham City Council plans to buy 11 more low emission buses, bringing the total to 50. It claims it has the largest electric bus fleet in Europe.
A city transport councillor said the latest grant of £1.5m would allow the buses to run on all council routes.
In total the authority has received £5.5m from the fund.
'Improve perception'
Jane Urquhart, Nottingham councillor for planning and transportation, said some electric buses were already in operation and had helped to reduce noise and improve air quality.
"The use of electric buses will be expanded across the city, taking the total number of electric buses in Nottingham to 50 by September 2015," she said.
Ms Urquhart added that money from the council's workplace parking levy has also contributed to funding the buses.
Transport Minister Baroness Kramer said electric council bus services would "improve people's perception of public transport".
The government's Green Bus Fund has provided more than £89m to bus operators and local authorities, allowing for the introduction of about 1,250 new low carbon buses in England.