Caistor Arts and Heritage Centre could be 'destroyed' by cuts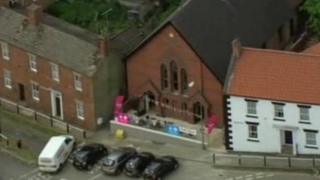 Cuts to library services could "destroy" an arts and heritage centre, its director has said.
Caistor Arts and Heritage Centre has been credited with helping regenerate the Lincolnshire town of Caistor since it opened in April 2011.
The centre currently receives £11,000 a year from Lincolnshire County Council for the library.
The council has proposed reducing this as part of cuts to library services, but said it was willing to negotiate.
Councillor Nick Worth, portfolio holder for libraries, said: "In Caistor's case they are a bit unique and they have got a contract that already says £11,000."
Mr Worth said the original contract allows the council to opt out if there is substantial change to the library service.
But he added: "All the libraries will be going through a transition period in the next year so we haven't really got a problem giving them [Caistor] £11,000 in the next year."
'Renowned throughout county'
The council is asking communities to run up to 40 libraries under its changes to library services.
They can get a one-off capital grant of up to £15,000, then an annual revenue grant of £5,167 for four years.
Mr Worth said Caistor Arts and Heritage Centre should put a business case together arguing that they need more than £5,167 a year.
Roy Schofield, centre director, said losing the library would "effectively destroy" the centre.
"It's become a community hub over the past three years and is well renowned throughout the county and beyond, and it would destroy the heart of a community centre that currently exists in Caistor," he said.