Nottingham Emett Clock: Time piece is dismantled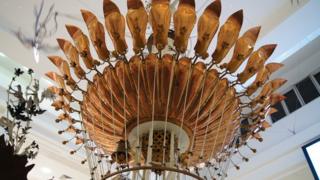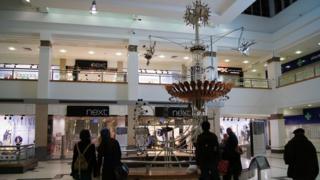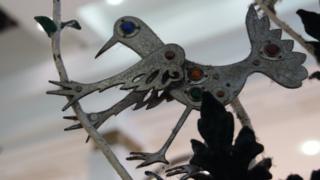 A water-powered clock which has entertained Nottingham's shoppers for 41 years has been dismantled for restoration.
The Aqua Horological Tintinnabulator - more commonly known as the Emett Clock - has stood in Nottingham's Victoria Centre since 1973.
Fears it was to be removed permanently led to a campaign to save the landmark.
It will be restored and placed in an exhibition of Rowland Emett works before returning to the centre in 2015.
The clock, which opens up and moves every 15 minutes, was designed by the eccentric Englishman who also created contraptions for the film Chitty Chitty Bang Bang.
But since its installation it has lost bits, changed colour and some parts no longer work.
Engineers gingerly dismantled the work ready for the Rowland Emett Society to restore it and place it in the exhibition.
Tim Griffiths, from the society, said: "It will look like it did originally, which was a very sparkly machine.
"It's been here for 40 years - over those 40 years, all sorts of bits have disappeared off it."
Janine Bone, general manager of the centre, said the clock will return but in a slightly different place, following a facelift.
"The clock is a real asset to us. We have listened to the people of Nottingham and people have told us they are passionate about it," she added.
The clock will form part of a display of Emett's work at Birmingham Museum from May.