George Africanus: Work to uncover former slave's life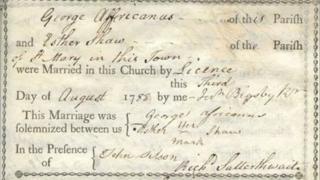 Research will be done to find out more about the life of a west African slave who became a successful entrepreneur in England.
George Africanus is thought to have been born in Sierra Leone in 1763, then given as a present to the Molineux family in Wolverhampton in 1766.
The family educated him and he moved to Nottingham as an adult in 1784.
Belong Nottingham, a community development charity, wants to increase awareness of him.
Rosanna Ottewell from the charity said: "At the end of the 18th Century there were 14,000 black people in Britain and we hear very little about them.
"It's almost as if they've been airbrushed out of history.
"He married, he ran businesses, he was very responsible in terms of civic responsibilities; he helped to police civil disturbances and achieved a tremendous amount."
She said there were many unanswered questions, including why the Molineux family educated him, and whether he has any living descendants.
The Molineux family gave him his full name, George John Scipio Africanus, but his original African name is unknown.
Documents show he married in Nottingham in 1788 and was buried in 1834.
His grave, in the churchyard of St Mary's in Nottingham's Lace Market, was uncovered in 2003 and a plaque was later unveiled at the churchyard.
Ms Ottewell said: "There's a lot we know about his life in Nottingham but very little we know about his life beforehand."
Belong Nottingham is recruiting volunteers to help with the project.
As well as doing further research, plans include creating a website, a touring exhibition, and a small book or pamphlet.
Learning materials will be developed in conjunction with local schools, with a view to having George Africanus on the curriculum.