New phone app to 'reveal' Nottingham's hidden caves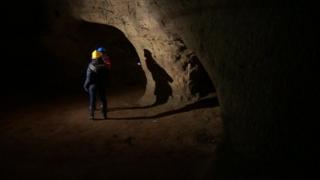 A research team in Nottingham has developed a new mobile phone application to allow people to explore the city's caves from above ground.
Nottingham has one of the largest network of man-made caves in the UK, but most are not accessible.
"We hope to bring the caves back to the people so they can realise what they offer," David Strange-Walker, of the Nottingham Caves Survey, said.
The free application will be available by the end of February, he said.
Some of the city's 450 caves are located underneath pubs and some can be accessed from the pub cellars.
Mr Strange-Walker said the application would have a map function to allow people to locate the caves and a panoramic view of the caves showing what they look like inside.