Nottinghamshire council drops Kelham Hall estate price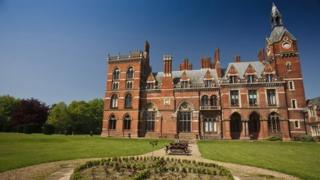 A Nottinghamshire council has dropped the estimated price tag of its Grade I listed headquarters by more than half.
Newark and Sherwood District Council is looking to sell Kelham Hall, located on the River Trent near Newark, for £2.5m but had asked for £5m in 2012.
The hall, designed by architect Sir George Gilbert Scott in Gothic Revival style, was completed in 1863.
The council said it needed less space and maintenance costs were rising.
Oil men
Council chief executive Andrew Muter said: "The council, like all councils across the country, has lost a huge amount of its revenue... so we have shrunk in size and we don't need offices of this size.
"Occupying a place like Kelham Hall is lot more expensive than a modern office so it makes sense in the long-term running cost to downsize and go somewhere that is more energy efficient."
He added: "We hope to get a little more value by selling it than we thought three months ago."
The grounds were designed by the Victorian landscape architect William Andrews Nesfield, who worked at Kew Gardens and Regent's Park, in 1860.
Kelham Hall was used as a military base during World War One and by Texan and Oklahoma oil men who developed the nearby Eakring oil field.