Malakai McKenzie murder case: Shakir Robinson cleared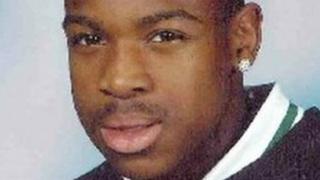 A man has been cleared of murdering a teenager who died in a suspected gang-related shooting in Nottingham.
Malakai McKenzie, 19, was shot while sitting in a car outside a Sherwood pub with his brother and two cousins.
Nottingham Crown Court was told that Shakir Robinson's role in the April 2012 killing had been to drive gang members away from the scene.
Mr Robinson's defence that he was "in the wrong place at the wrong time" was accepted by the jury.
'Feuding gangs'
Mr Robinson, 27, of Shortwood Close, Nottingham, had told the court he had no knowledge of the gunman's intentions and had been going to a party.
Following the shooting Mr Robinson said he fled to Bermuda because he feared being a target of retaliation and was "scared of his safety".
Defending, Peter Joyce QC said detectives had based their prosecution on "guesswork" and "speculation".
Prosecuting, Timothy Spencer QC told the jury that the shooting was the culmination of a feud between two gangs from the Basford area of the city.
He said Mr Robinson's role had been to drive the "gang" away from the scene of the shooting, which happened on 21 April outside a pub called The Hubb.
'Disappointing' verdict
However, the jury cleared Mr Robinson of murder and three counts of attempted murder.
After the verdicts Det Ch Insp Tony Heydon, from Nottinghamshire Police, said: "We have left no stone unturned; we were satisfied that we had sufficient evidence to bring a prosecution against the defendant and it is disappointing a conviction has not been secured."
Gunman Cameron Cashin, 21, from Basford, was convicted of Mr McKenzie's murder last year and is serving a life sentence, with a minimum term of 34 years.
Two other men charged with murder were found not guilty.