Malakai McKenzie murder: Shakir Robinson 'had no knowledge' of gun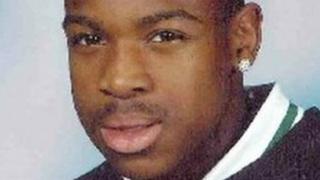 A man accused of murdering a teenager in a suspected gang-related shooting claims he knew nothing about the gunman's intentions.
Shakir Robinson of Shortwood Close, Nottingham, is on trial over the killing of 19-year-old Malakai McKenzie in April 2012.
Mr Robinson, 27, fled to Bermuda shortly afterwards and was extradited from the US last year.
He denies one count of murder and three counts of attempted murder.
'Continuing feud'
During the hearing at Nottingham Crown Court, the jury was told the shooting was the culmination of "gang warfare".
Timothy Spencer QC, prosecuting, said Mr Robinson had gone to The Hubb pub car park in Hucknall Road, Sherwood, on 21 April 2012 with two others and Cameron Cashin, who was convicted last year.
Mr Spencer said the defendant had driven the "gang" away from the scene.
"He must have known about what was going on with the escalating and continuing feud between these two gangs," he added.
"Cashin was not going to take people he can't trust or people who did not know what his true purpose was.
"His role was clear. In the same way he had driven them to the scene he had to take them away."
The jury was shown CCTV footage of Cashin firing four shots at a car. Malakai McKenzie was inside with his brother and two cousins and was shot in the head.
'Scared for safety'
Defending, Peter Joyce said Mr Robinson had been "in the wrong place, at the wrong time".
He said his client "had no knowledge" of a gun or of Cashin's plans.
"He sauntered around with his hands in his pockets and face uncovered and acted surprised when the shots were fired," Mr Joyce added.
He said the defendant had fled to Bermuda not because he was guilty but because he feared being a target of retaliation and was "scared of his safety".
Sending members of the jury out to consider their verdict, the judge Mr Justice John Royce said their task was to "consider the sense of joint responsibility" and "decide whether Mr Robinson was party to the offences".
Gunman Cameron Cashin, 21, of Liddington Street, Basford, was convicted of Mr McKenzie's murder last year and is serving a 34-year sentence.
Two other men charged with murder were found not guilty.