Nottinghamshire Police to recruit 150 more officers but close stations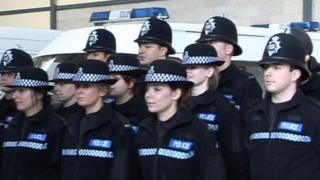 Nottinghamshire Police will recruit 150 more uniformed officers but police stations will have to close and other savings made to pay for the increase.
The county's police and crime commissioner Paddy Tipping had his budget for next year approved at a meeting on Monday.
But the BBC has been told the force's senior team have "serious concerns" about balancing the budget.
Nottinghamshire Police has to reduce its spending by £42.3m by March 2015.
Asked at the police crime and commissioning panel meeting whether the force was going to go bust, Mr Tipping answered that he had produced a "balanced budget" but that budget depended on "making savings".
"I think we do need to have a more uniformed presence on the street but I do take the point that the chief constable is very clear about," he said.
"That is that some of the things officers do at the moment, we can do with civilians.
'Stop recruitment'
"We need to do more on internet and commercial fraud and does that need a warranted officer? No it doesn't, it needs an IT specialist."
Chief Constable Chris Eyre said: "The public have spoken when they elected Paddy. I am accountable to Paddy to make sure I deliver against his priorities and objectives.
"We're very clear about the challenges within that budget and we've got contingency plans in place if that becomes difficult."
Mr Tipping added that he would be prepared to halt the recruitment drive if money ran out.
A 1.96% increase in the policing portion of the council tax bill for Band D households - an annual tax increase of £3.33 - was approved at the meeting.
There will also be 375 new police community support officers (PCSOs), an increase of 75 from 2012-13.