Newark School of Enterprise rejected by government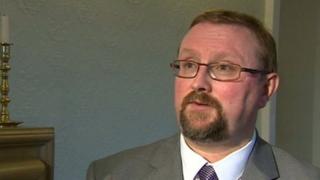 Revised plans for a free school in a Nottinghamshire town have been rejected by the government.
The Newark School of Enterprise would have been led by Andrew Cutts-McKay the former head of the troubled Al-Madinah free school in Derby.
The Department for Education (DfE) said the school could not "reach the high bar" set out by ministers.
Mr Cutts-McKay had said previously that the school needed more pupils in order to open in September.
'No demand'
A DfE spokesperson said: "Unfortunately Newark has been unable to reach the high bar we have set and today we have withdrawn our approval for the project to proceed any further."
Nottinghamshire County Councillor John Peck, who has responsibility for education at the authority, said: "The demand wasn't there. There was never enough pupils for the school.
"There was no need for a free school in Newark, there were plenty of places in the two secondary schools."
Mr Cutts-McKay previously said the DfE wanted the school to enrol 75 children to secure funding, but they had only managed to find 50.
After Friday's decision he said he would continue to "work to secure the best possible future for the 50 children and parents who actively wanted a place at the school".
Mr Cutts-McKay helped set up the Muslim ethos Al-Madinah free school in Derby which opened in September 2012.
He left the free school the following June citing anonymous threats to his children as the final straw in an ongoing row with governors over the school's funding.
Newark School of Enterprise's trustees' original plans for a free school named the Exemplar Academy were thrown out in March.