West Bridgford deaths: Inquest rules suicide and unlawful killing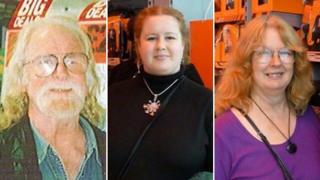 A family has said some "questions had been answered" by an inquest into the deaths of three of their relatives.
Pauline Barker, 56, drowned herself in the River Trent in Nottinghamshire two years ago, the inquest concluded.
On hearing of her death, Archie McKelvie, 63, shot their daughter Corrin Barker, 31, before killing himself, the coroner said.
The family of the trio, from West Bridgford, said their lives had been turned upside down.
Coroner Mairin Casey recorded a conclusion of suicide for Mr McKelvie and Pauline Barker and unlawful killing for their daughter.
In a statement, their relatives said: "Our lives were turned upside down the moment we learned we had lost Pauline, Archie and Corrin.
"The last two years have been a distressing and confusing time, full of unanswered questions and much sorrow.
"We now have some answers to the tragedy of what happened to our loved ones and ask that people respect our privacy so we can begin to move on from this ordeal."
Pauline Barker's body was pulled from the River Trent on 15 April 2012.
When police were carrying out routine inquiries to establish her identity they found Mr McKelvie and his daughter, both dead in the kitchen of his North Road home.
A shotgun was found nearby and a Home Office post mortem examination found they had both died of gunshot wounds.
Earlier in the inquest, the coroner was told of a note left by Pauline Barker which said: "Got anxiety, depression, no energy left."
It was also heard that her daughter suffered from depression and had learning difficulties.
Mr McKelvie was described as an "extrovert" and a "loveable rogue" but left "communication" suggesting they would not be able to cope following the death of Pauline Barker.